The Arsenal
So far, so good.
(Pic : Daily Express)
Overall Verdict – Aside from blips (Villa, Man Utd, Man City), it's been much better than anyone would've expected after the shambles of pre-season. I can't argue with being top going in to 2014, but a lack of squad depth will come back and haunt Arsenal again. I expect Chelsea and Man City to last the distance, especially as mid-February and the end of March look particularly brutal in terms of fixtures. I won't accept Arsenal as bonefide title challengers unless they go into April 6 points clear. I want to BELIEVE!

Best Performers – One player stands out; the second coming of Aaron Ramsey. He's proving he's not only one of Arsenal and Wales' most talented players, but pushing to be one of the best young players in the world on present form.

Per Mertesacker is a future (full-time) Arsenal captain in making, and – despite his flaws, like having the turning circle of the Ark Royal – should be one of the first names down on each teamsheet. The Mertesacker-Koscielny partnership is, as last season, rock solid.

Olivier Giroud deserves a mention, despite his recent barren patch which came to an end yesterday. There are legitimate concerns over whether he can carry an attack, but he's somehow managed to do it. I'm not sure about his over-dramatic flouncing whenever he misses a chance though.

New Signing Impressions – Yaya Sanogo has yet to play, so there's nothing to say.

Mathieu Flamini is one of the shrewder signings of the season. He does the ugly stuff in midfield that Arsenal have lacked since Gilberto Silva. He's doing very good "Generalissimo" impression each game, pointing and shouting at thin air. I was sceptical about bringing him back, but I'm glad Wenger took then punt.

That leaves Mesut

Ö

zil. He initially produced performances that matched his price tag, but from November onwards he's taken his foot off the gas. I don't know if that's tiredness or him still adapting to the English game, but he's only showing about 2/3 of his ability – which is still pretty good.

The League Overall

Player of the season (so far) – Realistically, it's Luis Suarez with Aaron Ramsey second. Despite signing a new contract, I just don't see Suarez staying at Liverpool for the long haul. I'd expect a "Galactico" move to Real Madrid in the summer unless Liverpool qualify for the Champions League.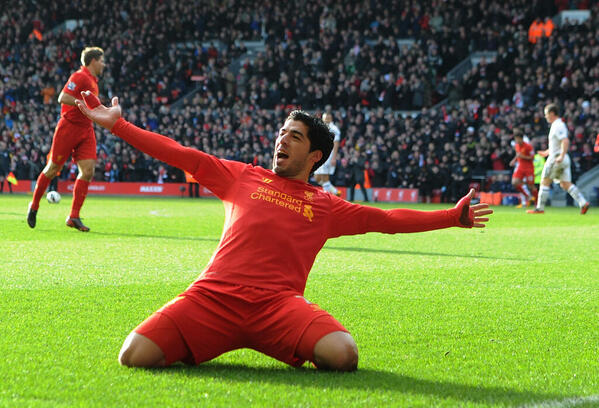 He's still a rat.
(Pic : 101greatgoals.com)
Take your pick from most of the Man City squad. Sergio Aguero, Alvaro Negredo, Yaya Toure and Vincent Kompany are probably up there in contention. At Chelsea, you can probably point to Edin Hazard.

Goalkeepers have had wobbles, but Simon Mignolet is looking like an excellent signing for Liverpool, and was one of the best keepers last season also. Tim Howard is also putting in excellent performances for Everton.

Surprise Packages (Good) – Everton have punched above their weight, and Roberto Martinez is proving doubters wrong. I don't think that's down to their high profile loanees either, they've threatened to break into the top four for some time. They have a very good run of games over the next few weeks from their perspective. I don't think it's silly to suggest they could launch a surprise title challenge.

Liverpool are proving doubters wrong too, though I wouldn't expect them to go the distance as their inconsistency is causing problems. If Arsenal are criticised for not turning up against the big teams, the same can be said of Liverpool.

Hull City have adapted quickest to the Premier League of the promoted sides and have put in some great performances. I had Steve Bruce down as one of the first sackings, but he could very easily lead Hull to the top half of the table on current form.
David Moyes doesn't care about Japanese people.
(Pic : Daily Mail)
Surprise Packages (Bad) – Man United, it goes without saying. It's been a miserable start to the Moyes era – Europe and cups aside. I fully expect them to finish top four, or at least push towards top four. The sight of Shinji Kagawa – one of the best creative midfielders in the league – sitting on the bench while the likes of Tom Cleverly start is very amusing.

Chelsea are far from their previous Mourinho incarnation, resorting to George Graham tactics and not being convincing either. The fact they're still in contention does, however, highlight how good a manager Mourinho is – begrudgingly. I fully expect another splurge next summer which will re-establish Chelsea's juggernaut. Man City have perhaps overtaken Chelsea as my favourites for the title now though.

Tottenham spent £100million and have – predictably – unravelled in comical fashion. Fulham have long flirted with relegation, and I suspect this will be the season they go down. They're playing as though they've given up.


Emerging Talent – Everton's Ross Barkley probably has the strongest claim here, as does his teammate Seamus Coleman. I'd expect big bids to come in for both during the summer, and it'll be a question of when, not if, both move from the Toffees – unless the club can offer them a chance to play at the highest level.


One of the big talents of the Premier League?
(Pic : BBC)
Southampton's Adam Lallana (though hardly "emerging" at age 25) and Luke Shaw have also impressed. The latter has already been linked moves to a bigger club. Christian Eriksen was one of the few Spurs signings who seems genuinely exciting, and was flagged up by Dennis Bergkamp as someone Arsenal should've paid close attention to.

Duff Buys – Marouane Fellaini was one of my favourite non-Arsenal players prior to his move to Old Trafford, where he's since become anonymous. His poor performances and lack of playing time have perhaps put his place at the World Cup in doubt.

Roberto Soldado hasn't done anything to justify his £26million price tag at Tottenham, yet. Meanwhile, Cardiff's third most expensive signing, Andreas Cornelius, has played a whopping 6 games and scored zero goals – somewhat understandable due to injuries.

The worst signing in terms of investment vs end product is probably Chelsea's £31million Willian, closely followed by Norwich's £8.5million Ricky van Wolfwinkel.

The Welsh Clubs
Aside from one or two surprise results, neither club has set
the Premier League alight this season.
(Pic : Wales Online)

Swansea have struggled this season, despite spending more than £20million in the summer. That's probably because the Europa League has proven a distraction (with constant Thursday-Sunday games). I wouldn't expect them to get anything from the Napoli games, and although I'm sure Jacks were pleased to have picked up silverware last season, they'll want to stay in the Premier League more.

Michu's also suffering from "Second Season Syndrome" with abundance and out until February with an ankle problem. In addition, the Liberty Stadium isn't the fortress it was last season or under Brendan Rodgers. They're still pretty solidly run on and off the pitch and have talented players like Ben Davies and Jonjo Shelvey, so they do have the players at their disposal to push on. However, I'd expect towards the end of the season there'll be the annual muttering surrounding Michael Laudrup's future.

On the pitch, Cardiff are doing as I expected, though Hull are performing best of the promoted sides. Have they completely adapted to the Premier League? Aside from one or two surprise results (against the two Manc clubs, for example) probably not 100%. They're big problem seems to be upfront, as they're averaging less than a goal a game, while goals conceded aren't that far off the sides around them.

Off the pitch, they're a complete mess and a perfect example of how not to run a newly-promoted club. Sacking Malky Mackay defies logic, but when did logic ever matter in football? They've been linked with Ole Gunnar Solskjaer and firebrand Turkish manager Yilmaz Vural as replacements. The former's perhaps too sensible to want to work under Vincent Tan, while the latter (who's been ruled out, it seems) is a complete fruitcake who rarely lasts more than a year at clubs he's managed.

Cardiff and Swansea in a relegation scrap before the season's out? I wouldn't bet against it, and if I were putting money on one of them to go down, it would be the Bluebirds. Cardiff's saving grace is the sides below them aren't doing much better....for now.